Delta Air Lines Delta Air Lines
Airbus A330-300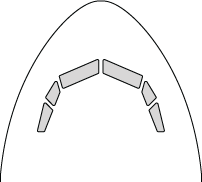 Comments
The newer Airbus A330-300 plane features in-seat Audio Video On Demand (AVOD) entertainment for every seat.
Business Elite seats offer slanted flat sleepers, and not the lie-flat horizontal sleeper on the top-tier airlines. Be aware that the shell of these seats recline significantly when the seat is reclined into sleeper position, making it difficult for the passenger behind to access the aisle. Power ports for personal computers are installed in all Business Elite seats, as well as the forward Economy cabin (rows 10-28).
Delta is in the process of adding
Economy Comfort
seating, which features up to an additional four inches of legroom and increased recline, on many of its long haul flights. On Delta's Airbus A330-300s that have been reconfigured, rows 10-14 are the Economy Comfort rows. These seats require an additional fee to book, though that fee is waived/reduced for elite members of Delta's frequent flyer program. Be aware that due to the increased recline offered in Economy Comfort, seats in row 15 are potentially poor choices.
Be aware the window pair of seats in the rear Economy cabin have slightly less legroom. Also note that the Economy window seats (A and J) and middle seats (D and F) have video entertainment equipment under the seat in front of you, taking away valuable legroom. The aisle seats (B, C, G, and H) have no such equipment underneath and are therefore more desirable.
Legend
| | |
| --- | --- |
| | Above average |
| | Mixed reviews |
| | Below average |
| | Beware |
| | Average seat |
Place cursor over a seat to view seat-specific comments.
| Cabin | # Seats | Pitch | Width |
| --- | --- | --- | --- |
| Business | 34 | unknown | unknown |
| Economy Comfort | 32 | unknown | unknown |
| economy | 232 | unknown | unknown |
// include footer. show_footer( $printable ); ?>