Delta Air Lines Delta Air Lines
Boeing 767-300
(Domestic)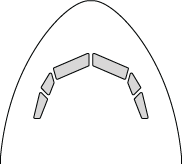 Comments
Delta is the world's largest operator of Boeing 767s with about 100 in its fleet. This configuration is the domestic workhorse.
First Class has standard domestic First Class seats. The middle section of seats are most desirable, since they have direct aisle access and there is no need to climb over someone to get to the aisle.
Economy Class on the Boeing 767-300 plane is reasonably comfortable, since the vast majority of seats are either window or aisle, with only one out of seven seats being a middle seat. There have been reports that the last couple of rows have slightly tighter seats due to the curvature of the fuselage.
Legend
| | |
| --- | --- |
| | Above average |
| | Mixed reviews |
| | Below average |
| | Beware |
| | Average seat |
Place cursor over a seat to view seat-specific comments.
| Cabin | # Seats | Pitch | Width |
| --- | --- | --- | --- |
| First | 30 | 37" | 18.5" |
| Economy | 231 | 31-32" | 17" |
// include footer. show_footer( $printable ); ?>