Delta Air Lines Delta Air Lines
Boeing 767-400 ER
(TransAtlantic - Full-flat beds)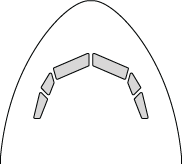 Comments
This is Delta's first attempt to provide full-flat sleeper bed on their Transatlantic fleet, equipped using the innovative Thompson Solutions design for the BusinessElite cabin.
Each of the sleeper seats feature a 78" long bed, with an adjacent side table. There is a foot-well space built into the bottom of each side table, for the legs of the passenger seated in the next row. This design allows each seat to have direct access to the aisle, but makes it more difficult for passengers traveling together to share a meal or carry on a quiet conversation. The middle section of the cabin would be better for passengers traveling together, if you do not mind the large side table separating your seats.
Our preferred seats would be the ones along the side of the fuselage. The odd numbered seats would have the best window view, and a slightly more private feel as it is farthest from the aisle. The even numbered seats have better storage arrangement, utilizing the space in front of the side table for their in-flight personal belongings.
Each of these new BusinessElite seats are equipped with
AVOD
(Audio Video On Demand) in-flight entertainment system, as well as 110V universal power outlet.
As for the
Economy Class
cabin, it appears that Delta squeezed in an extra row in the rear cabin by slightly reducing the pitch for the seats along the side of the fuselage. The forward coach cabin is probably a better choice for this reason.
Delta is in the process of adding
Economy Comfort
seating, which features up to an additional four inches of legroom and increased recline, on many of its long haul flights. On Delta's Boeing 767-400s that have been reconfigured, rows 15-18 are the Economy Comfort rows. These seats require an additional fee to book, though that fee is waived/reduced for elite members of Delta's frequent flyer program. Be aware that due to the increased recline offered in Economy Comfort, seats in row 19 are potentially poor choices.
Power port availability is inconsistent as Delta is retrofitting its fleet. Your best bet is to sit as far forward as possible in the coach cabin for better chance of a working powerport.
Economy class seats are also equipped with
AVOD
(Audio Video On Demand) in-flight entertainment system. Unconfirmed reports indicated that the B, D and F seats have hardware boxes underneath the seats that take up part of the leg space.
Legend
| | |
| --- | --- |
| | Above average |
| | Mixed reviews |
| | Below average |
| | Beware |
| | Average seat |
Place cursor over a seat to view seat-specific comments.
Cabin
# Seats
Pitch
Width
Business Elite
40
78"
22"
- Notes: Pitch indicated is the length of the flat bed at full extension.
Economy
206
31-33"
18"
- Notes: Note that powerports availability are best in the forward most rows.
// include footer. show_footer( $printable ); ?>