Delta Air Lines Delta Air Lines
Boeing 767-300
(International)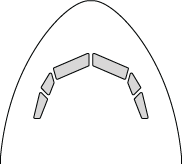 Comments
Delta is the world's largest operator of Boeing 767s, with about 100 in its fleet. This configuration features international Business Elite Class and Coach, primarily serving European routes such as Atlanta to London Gatwick.
Business Elite was a pretty good product when Delta introduced it in the late 1990s, however, many international airlines have upgraded their Business Class to include fully lie-flat beds. While many people still find it comfortable to sleep in these recliner seats, often there are complaints that they are too narrow, since Delta fits in six across instead of only five across like many other airlines' Boeing 767 premium cabins. The middle section of seats are most desirable, since they have direct aisle access.
Economy Class on this plane is reasonably comfortable, since the vast majority of seats are either window or aisle, with only one out of seven seats being a middle seat. There have been reports that the last couple rows have slightly tighter seats due to the curvature of the fuselage.
Most of the Boeing 767-300 fleet has been converted to this configuration, with the rare ones still having Business Elite seats in the mini-cabin behind the galley. Lucky coach passengers will be able to sample Business Elite until the fleet conversion is complete.
In-flight entertainment consists of overhead screens in First Class and Economy Class. The vast majority of the 767-300 international planes have the new Panasonic eFX AVOD (Audio Video On Demand) IFE in BusinessElite.
Legend
| | |
| --- | --- |
| | Above average |
| | Mixed reviews |
| | Below average |
| | Beware |
| | Average seat |
Place cursor over a seat to view seat-specific comments.
Cabin
# Seats
Pitch
Width
BusinessElite
36
60"
18.5"
- Notes: Power lumbar support, leg and foot rest
Economy
169
31-32"
18"
// include footer. show_footer( $printable ); ?>