American Airlines American Airlines
Boeing 777-200
(New Biz)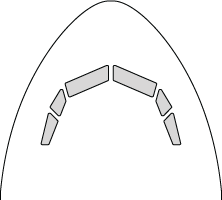 Comments
The Boeing 777-200 plane is the new flagship of American Airlines. American Airlines equipped this plane with Flagship suites featuring lie-flat beds in First Class. Business Class has slanted flat beds. All classes have AVOD (Audio Video On Demand).
Many seasoned travelers feel that AA really missed the boat on the Boeing 777-200 Business Class seats. Whereas most other airlines are beginning to introduce truly horizontal lie-flat Business Class seats, AA has chosen to go a whole generation backwards with their slanted flat seats. Slanted flat seats are commonly known as "wedgie" seats, since there is a strong tendency to slowly slide toward the foot rest due to the incline.
Read more about the new Business Class seats on FlyerGuide
.
Remember FEBO (Front Even Back Odd), as this is AA's way of taking meal orders in premium class based on flight number. For Even flight numbers, meal order is taken from the Front, and for Odd flight numbers, meal order is taken from the Back. Pick your seat accordingly if you want to ensure your meal choice.
Certain bulkhead Coach seats on the Boeing 777-200 do not have personal video screens. Also be aware that there is AVOD equipment mounted under the seats of all A, D, F and J seats, taking up valuable legroom. If you are flying in coach, your best bet is to select an aisle seat for more legroom.
The following is courtesy of the FlyerGuide Wiki:
First. Flagship Suites have been installed throughout the 772 fleet. These suites feature motorized swivel seats that convert to fully flat beds and have in-seat AVOD. The 16 seats are arranged in a 1-2-1 configuration, but are staggered across the aisles, so traveling companions may want to select adjacent seats in the center section.
Business. On some domestic routes, the aircraft is sold in a 2-class configuration, and elites and full fare passengers traveling on Coach fares can reserve Business class seats, although standard Coach service will still be provided. Seats 8H/J are reserved for airport assignment and are very private, next to a closet used by flight attendants; the center lavatory door faces forward and is not visible from these seats.
Coach. These seats are a bit wider and more comfortable than the 767 and have small seat-back video screens. The left and right exit row seats (31A/B/H/J) are considered excellent seats, with 5 ft of legroom, although these seats do not have underseat storage and do get cold during flight; passengers report that the exit slide does not really intrude into the legroom of the window seats, and some place their carry-on bags in this area after takeoff as footrests. Center section seats in the first bulkhead row (20C/D/E/F/G) have extra legroom despite being bulkhead seats.
Tip:
Learn about American Airlines' unpublished benefit, called
The Challenge
- a fast track to elite status and upgrades.
Legend
| | |
| --- | --- |
| | Above average |
| | Mixed reviews |
| | Below average |
| | Beware |
| | Average seat |
Place cursor over a seat to view seat-specific comments.
Cabin
# Seats
Pitch
Width
First Class
16
92"
21"
- Notes: Full-flat Flag-Ship Sleeper suites
Business Class
37
60"
20"
- Notes: Slanted flat sleeper seats
Economy Class
194
31-32"
18.2"
// include footer. show_footer( $printable ); ?>