American Airlines American Airlines
Boeing 767-300
(New Biz)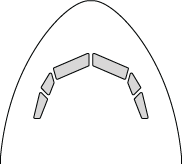 Comments
Primarily used by American Airlines on secondary international markets, the Boeing 767-300 offers Business Class and Coach. When used on domestic routes including Hawaii, the front cabin is branded as First Class.
The new
Business Class
is equipped with slanted flat sleeper seats, portable In-Flight Entertainment system, as well as 15V cigarete lighter style in-seat power ports.
Read more about the new Business Class seats on FlyerGuide.
Economy Class
has overhead video screens installed every few rows, and only some seats have in-seat power port as indicated on the seat map.
Remember
FEBO
(Front Even Back Odd), as this is AA's way of taking meal orders in premium class based on flight number. For Even flight numbers, meal order is taken from the Front, and for Odd flight numbers, meal order is taken from the Back. Pick your seat accordingly if you want to ensure your meal choice.
Be aware that there are empty in-flight entertainment equipment boxes mounted under the seats of all B, E, and H seats, taking up valuable legroom. These equipment boxes are reported to be eventually used for in-seat entertainment equipment.
The following is courtesy of the FlyerGuide Wiki:
Business (Domestic First). Next Generation Business Class (NGBC) seats with in-seat AVOD have been installed throughout the 763 fleet. Because of a new cross-cabin aisle in NGBC, there is no longer the problem of passengers crossing over the feet of people in the center of the first row. Some people prefer sitting in the center seats as it means they do not need to cross over anyone to get up and no one will ever need to cross over them.
Coach. The second exit row (21) is an excellent choice because of the extra legroom, but they do get cold. However, note that the first exit row (20) is a bad choice because of reduced legroom and limited recline. On this aircraft, it is sometimes possible to request a seat in row 17 at the airport if those seats are not designated as a crew rest (on flights under 8 hours). Row 17 feels like a private mini-cabin and features standard recliner business class seats with extra legroom, extra recline, footrests, and LCD screens on the bulkhead. However, some passengers report receiving absolute minimum service in Row 17 if the flight attendants have been trying to keep those seats for themselves even though not contractually guaranteed.
Blocked Seats. On lengthy international flights, the first row on the starboard side (seats 2H/J) may be allocated as crew rests. The following coach seats are generally blocked for allocation by the airport: 10 A-J, 11 A/B, 17 A/B H/J, 20 C-G, and 42 C-G.
Tip:
Learn about American Airlines' unpublished benefit, called
The Challenge
- a fast track to elite status and upgrades.
Legend
| | |
| --- | --- |
| | Above average |
| | Mixed reviews |
| | Below average |
| | Beware |
| | Average seat |
Place cursor over a seat to view seat-specific comments.
| Cabin | # Seats | Pitch | Width |
| --- | --- | --- | --- |
| First / Business Class | 30 | 60" | 18.5" |
| Economy Class | 189 | 31-32" | 17.2" |
// include footer. show_footer( $printable ); ?>