British Airways British Airways
Boeing 767
(New Club World)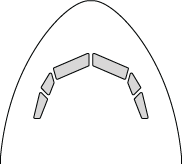 Comments
New Club World (NCW):
BA converted the Boeing 767 long-haul fleet to New Club World, which includes a six-foot lie-flat bed. Since the Boeing 767 is the smallest widebody, window seats are mounted close to the fuselage; the curvature of the cabin and the proximity to the windows means less room for the window passengers to stand up and access the aisle. Aisle seats feel roomier and many NCW passengers prefer the middle block, as each seat has direct aisle access.
World Traveller Plus (WT+):
Each seat is a window or an aisle, making for a comfortable experience. Service is standard Coach Class, but the seats are wider, recline significantly more and have leg and foot rests.
World Traveller(WT):
The advantage of the Boeing 767 being the smallest widebody is that 85% of the seats are window or aisle. One out of seven seats are middle and they tend to be filled last. Middle block passengers have a good chance of having more elbow space with an empty adjacent seat.
In-Flight Entertainment (IFE):
All of BA's long-haul fleet has personal video screens at every seat. The In-Flight Entertainment on this plane is
AVOD
(Audio-Video On Demand), providing each passenger with complete control over their IFE selection.
Legend
| | |
| --- | --- |
| | Above average |
| | Mixed reviews |
| | Below average |
| | Beware |
| | Average seat |
Place cursor over a seat to view seat-specific comments.
Cabin
# Seats
Pitch
Width
New Club World
24
73"
20"
World Traveller Plus
24
38"
18.5"
- Notes: With additional recline
World Traveller
144
31"
17.5"
// include footer. show_footer( $printable ); ?>