Air Canada Air Canada
Boeing 767-300
(Suites Version 3 - XM)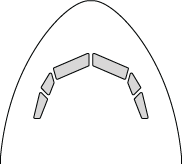 Comments
Only four of Air Canada's Boeing 767-300s are in this configuration, primarily used on the Vancouver to Shanghai route. Due to the length of the flight, a cabin crew rest compartment is located at the back of the coach cabin.
Lie-flat sleeper suites in
Executive First
Class are arranged in a herringbone fashion, angled at about 45 degrees to the direction of flight, and might take a little getting used to. Due to the angle of the seats, those that want a view out the window will really have to turn their head. However, every seat is an aisle seat and there is no need to climb over your neighbor or wake them in the middle of the flight. For couples traveling together, F and K suites in the same row are probably the best choice. Suites on the A (left) side have the most privacy since no one seated can look directly into your suite, and the left aisle has half the traffic of the right aisle.
AVOD
(Audio Video On Demand) is available at every seat. Executive First has dedicated in-seat power ports, and shared power ports are available in Coach, located at seats A, D, E and H.
Rows 12-18 in coach have the
best
legroom at 34-inch pitch, while the the rear outboard seats (28-39 AC and 28-39 HK) have the least amount of legroom at 31 inches. The remaining seats are at a 32-inch pitch.
Legend
| | |
| --- | --- |
| | Above average |
| | Mixed reviews |
| | Below average |
| | Beware |
| | Average seat |
Place cursor over a seat to view seat-specific comments.
Cabin
# Seats
Pitch
Width
Executive First
25
75"
20.35"
- Notes: 6'3" full-flat bed
Economy
166
31-34"
17.83"
// include footer. show_footer( $printable ); ?>