Virgin Atlantic Virgin Atlantic
Boeing 747-400
(Gatwick/Manchester - Version 1)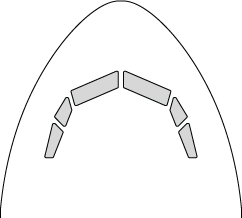 Lower Deck

Upper Deck
Comments
All seats on this Boeing 747-400 have the very nice v-Port
AVOD
(Audio Video On Demand) in-flight entertainment system, for the ultimate personalized control. Power ports are in all UpperClass suites as well as Premium Economy seats.
Note that the upper deck is the
Premium Economy
cabin, where most airlines have their Business and First Class cabin. Most passengers prefer the upper deck as it is more private and has convenient storage bins along the side of the window seats. The front of the upper deck is especially prized since the galley is in the back.
Virgin's pioneering
Upper Class
lie-flat bed is still amongst the best Business Class seats in the world, featuring a bed that folds fully flat, and every seat has direct aisle access without climbing over anyone. This seat is also unique that it has two surfaces, a softer and contoured side for comfort when used as a chair, and a firmer reverse side providing better support for sleeping. Most passengers like the comfortable bed with only one seam, but often complain about the limited recline when in seat mode. The cabin crew will flip the chair forward into a bed, and provide a duvet and pajamas for UpperClass passengers. The design of the seats means that you must get up in order to change between seat and bed mode. The seats are also about 45-50 degrees away from the direction of travel, which some passengers needed time to get use to.
Note that the seating layout is not optimal for passengers traveling together in Upper Class. Consecutive rows are separated by high partitions between rows, and suites across the aisle are too far apart for quiet conversation.
While the in-flight beauty spa treatment is a thing of the past, there is still a full-service bar at the rear of the UpperClass section. Most passengers try to avoid selecting a seat near the bar to avoid the noise and traffic similar to land-based bars.
Legend
| | |
| --- | --- |
| | Above average |
| | Mixed reviews |
| | Below average |
| | Beware |
| | Average seat |
Place cursor over a seat to view seat-specific comments.
| Cabin | # Seats | Pitch | Width |
| --- | --- | --- | --- |
| UpperClass | 14 | 79.5" | 22" |
| Premium Economy | 58 | 38" | 21" |
| Economy | 387 | 32" | 17.5" |
// include footer. show_footer( $printable ); ?>