United Airlines United Airlines
Boeing 777-200
(New First, Biz & Econ)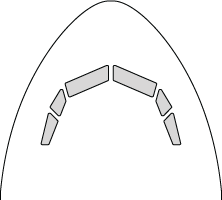 Comments
United started rolling out this newly updated plane in April 2010, with state-of-the-art First suite and truly lay-flat 180° sleepers in Business class.
United appears to have hit a home-run with the new Business Class, offering a true 180° lay-flat bed. This product significantly outclasses all other US airlines' international offering, and matches or exceeds the world's top-ranked Business class products such as those by British Airways, Virgin Atlantic and Singapore Airlines.
Featuring AVOD (Audio Video On Demand) in all classes, along with 110V AC power outlet (with the exception of Economy), this will be the new favorite of Business travelers.
Beware:
Some passengers have reported that seats 10B and 10J are particularly subject to reduced privacy, as they are rear-facing and, when the curtain between the cabins is open they directly face seats in the first row(s) of the economy cabin.
The economy 3-3-3 layout, on the other hand, isn't as popular with travelers. Many couples preferred the 2-5-2 configuration, as they were able to secure a pair of seats on either side of the aircraft.
The entire conversion process is expected to take 18-24 months. During this period, anyone scheduled to travel on one of these Boeing 777-200's should maintain a close eye on your seating assignment as United can and does switch out aircraft and you might discover too late that the configuration you thought you were flying on has changed.
Legend
| | |
| --- | --- |
| | Above average |
| | Mixed reviews |
| | Below average |
| | Beware |
| | Average seat |
Place cursor over a seat to view seat-specific comments.
Cabin
# Seats
Pitch
Width
First Class
8
78"
31"
- Notes: 180-degree flat sleepers
Business Class
40
76"
23.5"
- Notes: 180-degree flat sleepers
Economy Plus Class
106
35"
18"
- Notes: 100 Seats + 6 FA Rest seats
Economy Class
114
31-32"
18"
// include footer. show_footer( $printable ); ?>