Thai Airways Thai Airways
Boeing 747-400
(Version 7442)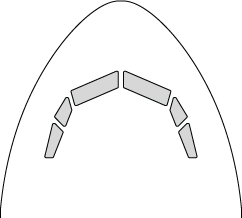 Lower Deck

Upper Deck
Comments
Thai has six of this older configuration Boeing 747-400s, with old style first generation lie-flat sleeper seats in First Class, and non-lie-flat recliners in Business Class.
Individual in-flight entertainment (IFE) video screens are at each First and Business class seat, although they are not AVOD (Audio Video on Demand). Note that on five of the six Boeing 747-400s in this configuration, there is one 15VDC power port installed for each pair of First and Business Class seats. Registration HS-TGW is the only one without the power port installed.
The upper deck Business Class is the preferred cabin for many business travelers; besides having more legroom than the lower deck Business Class seats, it also feels more intimate and exclusive.
Coach customers only have over-head video screen for entertainment. Several of the forward rows in the two forward coach cabins have very generous legroom of 34 inches, significantly better than the majority of standard Coach seats on many other airlines. Most of the last Coach cabin rows and several rear rows of each cabin has slightly less legroom, unconfirmed reports indicate that it could be at much as two inches less room.
Legend
| | |
| --- | --- |
| | Above average |
| | Mixed reviews |
| | Below average |
| | Beware |
| | Average seat |
Place cursor over a seat to view seat-specific comments.
Cabin
# Seats
Pitch
Width
Royal First
14
85"
19.5"
- Notes: 180-degree Full-flat sleepers
Royal Silk (Business Class)
50
48-50"
19.5"
- Notes: With 133 degree recline / One 15VDC powerport installed for each pair of Business class seats
Economy Class
325
32-34"
17.7"
- Notes: With 125 degree recline
// include footer. show_footer( $printable ); ?>