Air New Zealand Air New Zealand
Boeing 767-300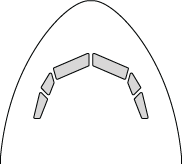 Comments
The Boeing 767-300 is Air New Zealand's smallest widebody, serving secondary international routes such as Asia as well as the Pacific Islands onward to Los Angeles.
Business Class
is configured in regional business style and does not include the full lie-flat Business Class seats available in Air New Zealand's Boeing 747s and 777s. Beware that the Business Class seats are only slightly wider than Coach seats, since the Boeing 767-300's cabin is just a bit too narrow to fit six seats across comfortably in business configuration. Meal service usually starts at 4AB, then moves up the left aisle and ends at 4JK, which means 4JK might not receive their meal choice.
Economy Class
seats are actually quite spacious, with slightly above average pitch and width. Most people will probably prefer the seat pairs along the side, since there are no middle seats. Also note that 15JK and 16JK are the best Coach Class seats. They are designated crew rest seats on long flights, but are available for general assignment on the shorter segments this plane is usually deployed on. These crew rest seats offers leg rests and significantly more legroom, as well as an exceptional amount of recline.
Personal video screens as well as handheld DVD players are available in Business Class and there are overhead screens in Economy Class.
Legend
| | |
| --- | --- |
| | Above average |
| | Mixed reviews |
| | Below average |
| | Beware |
| | Average seat |
Place cursor over a seat to view seat-specific comments.
Cabin
# Seats
Pitch
Width
Business
24
50"
18"
- Notes: Hand-held video player also available
Pacific Economy
206
32"
17.5"
- Notes: Four additional crew-rest seats
// include footer. show_footer( $printable ); ?>