Singapore Airlines Singapore Airlines
Airbus A380-800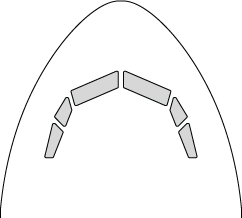 Lower Deck

Upper Deck
Comments
The flagship of Singapore Airlines, the Airbus A380-800 is the largest airliner in the world, far bigger than the Boeing 747 that held the title for more than 30 years. The Airbus A380-800 began a new era in commercial aviation when regular passenger service started between Singapore and Sydney on October 25, 2007.
Suite (First) Class features enclosed individual suites with a guest seat, and possibly the widest bed in the sky. Business Class also has a lie-flat bed, although the design forces the passenger to sleep on the diagonal.
All passengers have AVOD (Audio Video On Demand) with very large LCD screens. AC power ports are also installed at every seat.
Due to the curvature of the upper deck, there are reportedly extra storage bins next to the fuselage, giving window seat passengers additional room for their belongings. Also be aware that there are no overhead bins above the center Business Class seats. The design and layout of the cabin means that there is significantly less traffic on the right aisle.
Legend
| | |
| --- | --- |
| | Above average |
| | Mixed reviews |
| | Below average |
| | Beware |
| | Average seat |
Place cursor over a seat to view seat-specific comments.
Cabin
# Seats
Pitch
Width
Suite (First) Class
12
unknown
35.0"
- Notes: Privacy suites with full-flat bed
Business Class
60
51.0"
30.0"
Economy Class
399
32.0"
19.0"
// include footer. show_footer( $printable ); ?>