Emirates Emirates
Airbus A340-500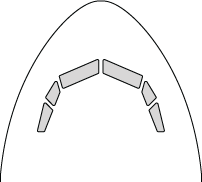 Comments
The Airbus A340-500 plane is outfitted with a luxurious First Class cabin. Each of the 12 suites have doors and Do Not Disturb indicators, giving passengers ultimate control over their privacy. A mini bar is installed inside the suite and there is a full size stand-up bar onboard.
All seats are equipped with Emirates' highly rated ICE in-flight entertainment system, which offers 500 channels for the ultimate choice in personal entertainment.
Business Class is in a spacious 2-2-2 configuration, with no middle seats. Most passengers prefer the middle section, with direct access to the aisle.
Even coach passengers enjoy slightly above average legroom, as well as decent hip room. Unlike Emirates' Boeing 777, with a very tight 10 seats across seating, coach on this Airbus A340-500 is in a comfortable 2-4-2 configuration with decent seat width.
Legend
| | |
| --- | --- |
| | Above average |
| | Mixed reviews |
| | Below average |
| | Beware |
| | Average seat |
Place cursor over a seat to view seat-specific comments.
| Cabin | # Seats | Pitch | Width |
| --- | --- | --- | --- |
| First | 12 | 86" | 20.5" |
| Business | 42 | 60" | 18" |
| Economy | 204 | 33" | 17.5" |
// include footer. show_footer( $printable ); ?>